Welcome to Premier Heating North West, trusted and well established gas engineer
Has your low cost power flushing?
About Premier Heating North West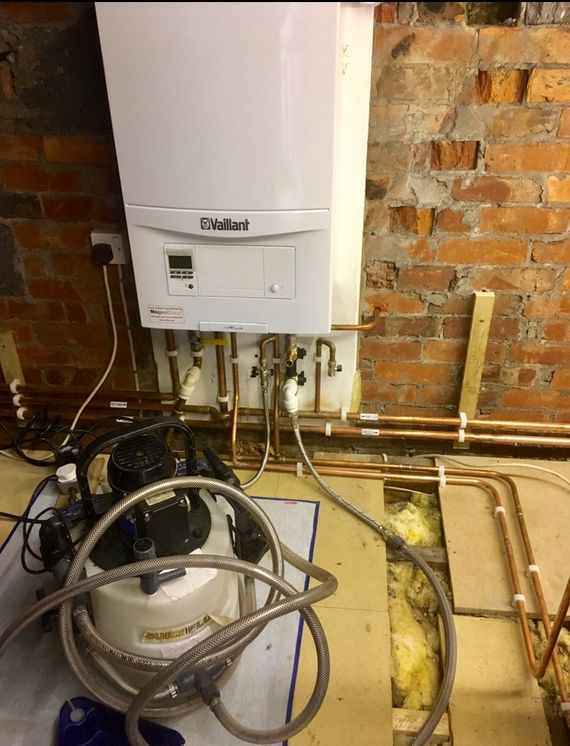 Power flushing in Wigan is the method through which central heating systems are forcibly cleansed using water and chemicals at high velocity, but low pressure, so that no physical damage is caused to the system. We drain the central heating system and then take out the central heating pump or a radiator then we connect the power flushing machine to your system and we add heavy duty cleansing chemicals. Each radiator is then cleaned individually until they are clean and all sludge is removed. Once each and every radiator has been addressed and the water is running clear inhibitor and anti-freeze is then added to your system to prevent any further corrosion. Power flushing in Wigan is the best method of getting your heating back to its optimum potential quickly.
COUNCIL COMPLIANT LANDLORD CERTIFICATES
Safety inspections provided by our gas engineer in Wigan with respect for your tight schedule.
BOILER FINANCE OPTIONS
We can offer the option of spreading the cost 0% finance packages for up to 12 Months or other finance options up to 10 years.
PRE-PURCHASE REPORTS
Find out if the boiler and central heating system is really working before you buy your Wigan property – call about a residential pre-purchase report today.
GAS FIREPLACES INSTALLED
Enjoy the warmth, energy-efficiency and pleasant visuals of a new fireplace – installed by a Gas Safe-registered professional from company name.
BOILER SAFETY INSPECTION AND SERVICE
Keep your boiler running and safe with a professional safety inspection and service carried out by a local rated Gas Safe-registered gas engineer in Wigan.
CENTRAL HEATING POWER FLUSHING
If your radiators are playing up, need bleeding consistently or your boiler is raucous – your central heating system might need power flushing in order to clear sludge from the radiators. Give us a call today.
NEW BOILER INSTALLATION
Benefit from the durability and performance of a brand-new boiler, installed with respect for your time and your home. Any written local boiler installation quotation beaten.
FAST BOILER REPAIRS
If you have experienced some sort of boiler breakdown, Premier Heating North West can send our closest available Wigan gas engineer direct to your home. We're experienced with ALL BRANDS and ALL MODELS of boiler, meaning that we are able to get your heating and hot water operational again in no time.
What Exactly is System Power Flush?
Power flushing in Wigan is the only productive way of dealing with sludge build up in a boiler and central heating system. A Power Flush will also prevent any future water quality problems occuring and most boiler manufacturers insist on one whenever a new boiler is installed. A filter such as the Magnaclean or Spirotech is also recommended for longer lasting protection.
We understand that customers are just looking for a friendly, reliable and trustworthy plumber! Take a look below at what sets us apart from the rest.
Thanks for visiting my website. If you'd like to learn more about me or the business please feel free to call me directly on the mobile listed on site. I guarantee all work, not simply because I have to but because I care about standards, service and reputation, You'll find my workforce to be as polite, professional and helpful as I am, you'll find our standards of work exceptional and you'll find my pricing competitive. Give us a call for a free quote or for free advice.
Thomas Draper
Owner / Director
Contact Premier Heating North West
Many reasons exist for why you need to invest in power flushing services, and here at Premier Heating North West we feel that our consumers ought to be kept informed of these facts since the more sludge which is taken out, the more effective your heating will be:
Reliability – clean systems are considerably less likely to breakdown stemming from internal damage.
Life-span – the complete system lasts a lot longer with adequate inhibitor levels.
Financial benefits – you'll spend less on failures and repairs in the long-term.
We can provide low cost power flushing in Wigan for all central heating systems. Please contact us today for a free, no obligation quotation.
Only takes a few seconds!